On Shrove Monday, February 20th .2023,
is due to the carnival procession
and the associated closure of Kölnstraße
between 11:00 a.m. and approx 4:30 p.m. no entry and exit possible!!!

We ask for your Understanding!
Welcome to Park House Stiftsgarage in the heart of Bonn
The Fuhrbetrieb Wallrath, founded in Bonn already in 1907 opened after many years he was based at Stiftsplatz, in 1956 the park pin garage at the Kölnstraße in the center of the city of Bonn – "City close to" park. The city with more than 2000 years of history offers many historical sights, highlights of art and beautiful impressions.
Parking in the garage pen as a basis for your excursions, business commitments or on your shopping. The center is within walking distance. Visit the Beethoven House or stroll along the Rhine. Also the Cathedral Square is just as simple to achieve as the town hall and town house. This also applies to Bertha von Suttner Square, the hub for bus and tram, and the opera. Our parking garage with its central location is perfect for shopping aswell.
The pen garage offers wide entrances and exits; the family Wallrath always provides the latest technology and is known for exceptional personal service whenever it is hectic, such as during the festive season. Integrated features include a gas station with a car wash / care and great shop for small purchases as well as a car repair services. Another special feature is the Limousine Service: maintained vehicles with driver for special applications.
We look forward to your visit
Member of the organizations: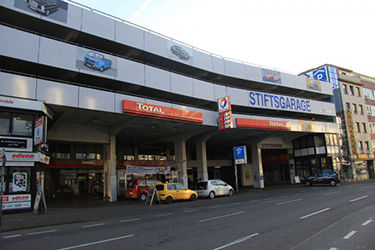 The Stiftsgarage is the parking lot when it comes to parking in the city center. For decades we have been offering outstanding valet parking with a great location and high safety standards. In our parking garage, your car is not only protected, but also always in your area, while you enjoy your time in the heart of Bonn. The parking garage Stiftsgarage in Bonn is clearly signposted, we have reliable on-site staff, barrier-free access, and around the clock. So you never have to worry about opening hours, and with your car with us always in good hands.